The Mosdal Auger Cart Scale Cart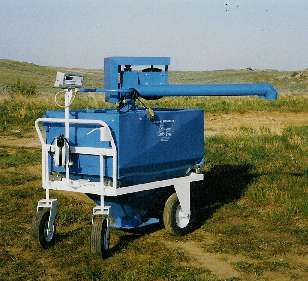 This scale cart dispenses feed and weighs accurately to 0.1% of full scale capacity (typically 0.1 lb increments over a 500 lb capacity). It is customizable to work in any facility.
Options include:
Custom box dimensions
Custom delivery auger dimensions
Battery or 110V AC power
Self-propelled ground drive
Additional customizations are available to meet your specific needs
Auger Scale Cart Features:
A Rice Lake IQplus390 DC indicator with 1″ high LCD display powered by six C-cell flashlight batteries or a 115VAC adaptor.
Scale readout is guaranteed accurate to 0.1% over the full capacity of the scale. This scale can be certified legal for trade! Contrast this to other scales that are only 1% or 2% accurate and you will see why Mosdal Scales are preferred by so many animal scientists.
The optional LiveWeigh software program filters out movements, soft floor flex, and motor vibration.
10″-16″ pneumatic tires make the scale easy to push and turn.
Heavy Duty Construction is utilized throughout.  Mosdal Scales are the most durable and most reliable products on the market!
A 9″ x 13″ vet tray holds tools or a laptop.
An optional drive unit makes this cart self-propelled.  Please call for details on ground drive options available.
Typical auger carts (not self-propelled) carry 500 lbs. of feed, but other capacities are available.
All dimensions and features are fully customizable to your specifications!
We also offer a similar product with exchangeable boxes for handling multiple feeds within the same facility.
If you don't see what you're looking for, please select a different page from the column to the left or contact us with any questions and we will be happy to serve you in any way we can.